What's in a Name?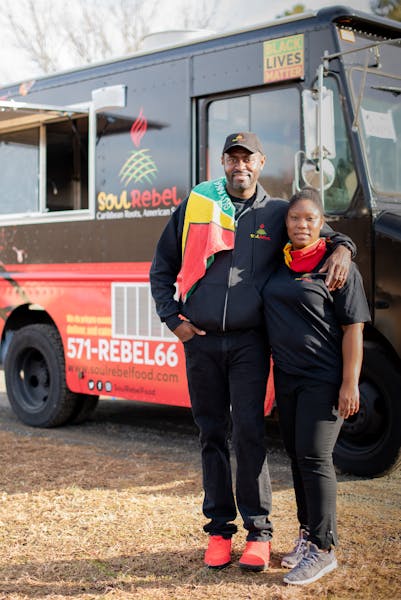 Welcome to the blog for Soul Rebel, glad you're interested in learning more about us and our business. We are very excited to share our stories with you. Along with being a place for you to learn more about Soul Rebel, we hope to use this medium to spread information and awareness about issues regarding social justice. But first, an introduction to who we are.
What's Soul Rebel?
Soul Rebel, as a food truck, will be based in Northern Virginia and it will serve the entire DMV region. The truck will be out and about starting this week, but delivery, pickup and catering options are available now. Soul Rebel was founded by Kofi Annan and his wife Shareem Annan. Kofi Annan is a US Army veteran, HBCU graduate (Tennessee State University), former Fairfax County NAACP president and founder of the activist non-profit organization, The Activated People. Shareem Annan is an HBCU graduate (Howard University) and an active member of Sigma Gamma Rho Sorority, Inc. Not only is the name Soul Rebel a way of paying homage to the late activist and musician, Bob Marley who wrote a song by the same name, but it is also a name that aligns with the ideologies that we hold.
A soul rebel can be described as someone who behaves honorably and keeps his moral compass pointed in the right direction; even if doing so is difficult. Seeing that we have an audience and an opportunity, we will do everything in our power to use our platform to promote and manufacture positive and meaningful change within our community. We will put a focus on celebrating, uniting, and uplifting Afro-Caribbean and Afro-American culture. We will create a conscious space to discuss the issues impacting Black and brown communities. We won't be complacent when the time calls for people to speak up; we refuse to simply shut up and cook. Speaking of the food…
The Main Course
Soul Rebel serves traditional Caribbean dishes such as curry, jerk chicken, and oxtail; but will also feature American remixes on these dishes such as Jerk-BBQ (Jerky-Q), Buffalo-Mango (Buffalo Soldier), and as a nod to Kofi's DC roots, Irie Mumbo sauces. Those that do not eat meat will have vegetarian options such as the portobello mushroom burger, veggie citrus sunshine salad, rasta pasta, and more to come. We have spent months perfecting a myriad of tropical-themed smoothies, sauces, and desserts and we can't wait for you to try them.