Congratulations Ms. Mariya Russel!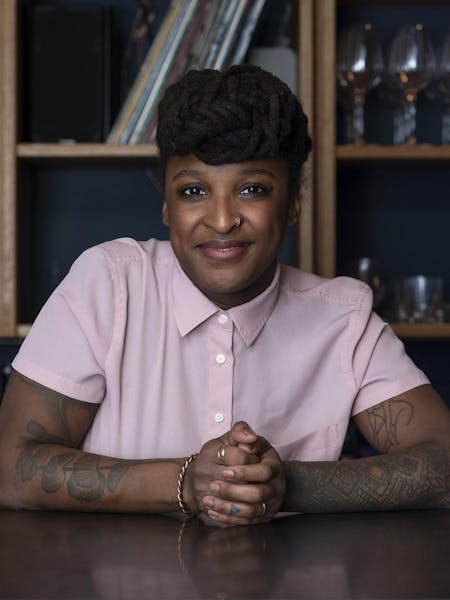 by Jaden Annan
Seeing as this month is one in which we should be celebrating and highlighting the contributions women made to our society, we thought this would be a great opportunity to share the stories of some amazing Black women of Caribbean descent and their accomplishments. As evidenced by how few articles I was able to find about this amazingly accomplished woman while researching for this blog post, she is one of the many women of color whose pioneering efforts have sadly gone unnoticed. Mariya Russel is the first African American woman to achieve the rank of a Michelin-star chef. Mrs. Russel received this honor while working as the chef de cuisine in the Japanese restaurant Kikkō/Kumiko in Chicago.
Of course, this is a moment in history that should be remembered for a long time and it's amazing that she might inspire the next generation of girls and women that look like her to follow in her footsteps, though this news is still in part disappointing to hear. While this should undoubtedly be celebrated as progress, we should also recognize that this is something that took until 2020 to finally happen. I can't help but wonder how many others have aspired to reach the heights that Ms. Russel has but ultimately had to give up on their dreams. I'm sure there have been countless black women in the culinary world that have been just as or more qualified than their peers. This, of course, is not to detract from all that Mariya Russel has done and the progress she's made. I really would like to make sure that the focus remains on her and her incredible achievements. I only hope that more are able to follow the path that she laid out.
Another inspiring story of women going against the grain and making waves in their respective fields of work is that of the collection of innovative, hardworking female civil engineers working to improve Guyana, South America. This story is of great personal significance to my dad, Kofi (co-founder and CEO of Soul Rebel) given that he was born and partially raised in Guyana.
This group of Guyanese women have risen through the male-dominated ranks of their profession and made it their mission to do everything in their power to ensure that their country looks as good as (or even better than) many of its close Caribbean neighbors. The main goal of a project like this is to increase the amount of appeal Guyana has as a travel destination and to help it be seen as more than another poor South American country. As mentioned before, they plan to achieve this through civil engineering which is a field of work in which females are not often represented. Aware of this fact, many of these women have also taken it upon themselves to promote a more diverse workforce by doing things such as breaking down social stigmas surrounding their job implying that it's more suitable for men. In doing this they hope to set an example and leave behind a legacy that proves the significance of having women in any workforce.
Nevertheless, Women's History Month is not just about celebrating the women that won awards, it is about celebrating the amazing women in your life. The wife that gave birth to your children, the mother that raised you for 18 years, your best friend that works 2 jobs to support her family. This is the time to acknowledge and celebrate all that they mean to you.
Photo Credit: Net-a-porter